Welcome to Once Upon A Child Jacksonville, FL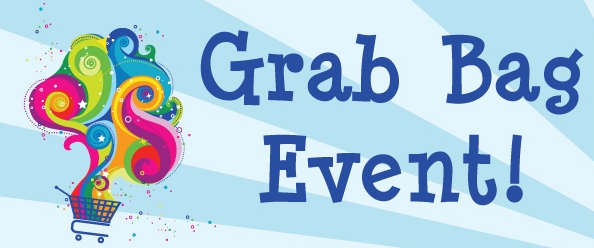 At Rivercity Marketplace!
While supplies last! Put as many clearance marked items as possible in a bag for just

$15

. Yeah! Only

$15

!
Saturday, January 25th
Starting at 9:00 am
(Supplies are very limited and we anticipate running out early.)
Don't Miss Out!

Due to the limited quantities of Clearance items for the Grab Bag Event,
all regular priced apparel will be 20% OFF all day Saturday! *
*excludes shoes, dance wear, & swimwear
We will be buying items from 1:00 pm - 7:00 pm
Do's and Don'ts to the Grab Bag Event
Do - get there early as supplies are limited.
Do - ask for a bag from an associate as you enter the store.
Do - find the clearance items that are grouped together in the size that you are shopping. All clearance tags have been marked for your convenience.
Do - remove the hangers so that you can stuff more items in your bag.
Do - stuff your bag to the top.
Do - purchase as many bags as you would like.
DON'T- over-stuff your bag. Bags can be stuffed to the top but not past that. The handles should be able to be tied closed.
*Offer only valid on marked clearance apparel and may not be used in conjunction with any other discount or sale. Not applicable to prior purchases or gift cards.

MOST NEEDED ITems: Toys
Shoes/Boots/Sandals Ride On Toys
Play Kitchens Playsets (little people/playschool)
Exersaucers

Pack N Plays


Jumperoos Highchairs
Strollers Bassinets
All season clothing for sizes 24 months through size 16
.
We are the nation's leading buyer and seller of name brand, new and gently used kid's stuff.
We buy and sell new and gently used clothing (infant - size 16), furniture, equipment and toys. We offer a fun and convenient way to pass on your children's items they no longer can wear or need as well as offer a large selection of children's items they can grow into. Why pay high-end prices when you can get the same great quality and name brands at a fraction of the cost?

Unlike consignment stores, we pay $$$ the same day for your kid's stuff that is in great condition, meets the CPSC's safety standards, and are of current style. We buy all seasons year round from customers on Monday - Saturday from 10:00am to 7:00 pm. There is no appointment needed. Buys are processed on a first come first serve basis and all buys are completed the same day.

Did you know that if you trade your used items for new purchases that you will receive a sales tax credit? Ask one of our sales associates how to take advantage of this benefit.

Tips for getting the most from your selling experience:

*Clothing should be in gently used condition, of current style, freshly laundered and laid flat in a tub, tote, or laundry basket (no bags or hangers). Two piece outfits should be placed together (not pinned or taped).

*Toys, equipment, and furniture items must include all original parts, be clean, and in good working condition. We check all items for CPSC recalls.

*All buys are processed same day and no items may be left for the next day.

Store Hours Buying Hours:

M - F 9:00 am - 8:00 pm M - F 9:00 am - 7:00 pm
SAT 9:00 am - 8:00 pm SAT 9:00 am - 7:00 pm
SUN 1:00 pm - 5:00 pm SUN 1:00 pm - 4:00 pm